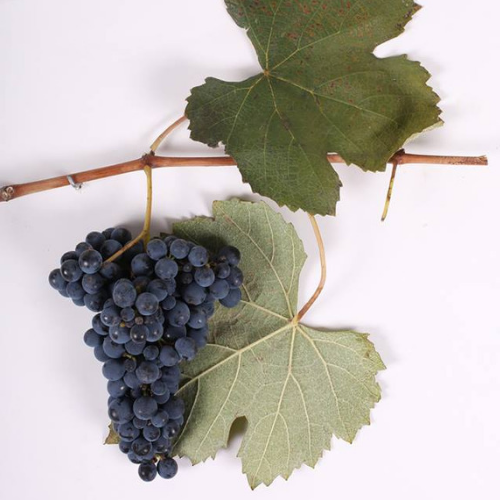 Otskhanuri Sapere is a very common Imereti vine variety. It gives the table quality red wine. It is also used to make other red and white wines by fermenting their juice otskhanare sapere on chacha. There are no other additional names for Otskhanuri Sapere in the special literary sources of viticulture. Otskhanuri Sapere is a local vine variety, originating from the Kolkheti hearth, where the forms of cultivated vine varieties are formed.
Produces a well-colored, full, velvety, harmonious and pleasantly dark red wine with a rich body and well-defined varietal aroma. It is well kept, improves in aging and is characterized by a long life. The alcohol content is 10-12.5%. Georgian wine companies make good varietal wines from Otskhanuri Sapere.
It is a late maturing variety. It has weak resistance to phylloxera and powder, and high resistance to ash. Annual horns are yellowish-red in autumn and have a grayish appearance. Provides high quality products on humus-carbonate, forest carbonate and sandy loam soils.
---
WINE GRAPES
A complete guide to 1368 vine varieties, including their origins and flavours.
Otskhanuri Sapere
Minor Georgian variety responsible for deeply coloured, ageworthy reds.
PRINCIPAL SYNONYMS: Argvetuli Sapere
ORIGINS AND PARENTAGE
Otskhanuri Sapere is indigenous to Imereti, western central Georgia, possibly named after the Otskha River. The Georgian word sapere means "dye", in reference to the deep black colour of the berries.
VITICULTURAL CHARACTERISTICS
Mid budding, late ripening. Good general disease resistance.
WHERE IT'S GROWN AND WHAT ITS WINE TASTES LIKE
Grown in the western, subtropical part of Georgia, mostly in the villages of Rodinauli, Sviri, Dimi and Obcha in Imereti, Otskhanuri Sapere produces deeply coloured, well-structured and ageworthy red wines with districtive varietal flavours of forest fruits, cherries and wild grasses. Khareba and Imeretian Wines produce good varietal examples.
BY – Jancis Robinson, Julia Harding, Joze Vouillamoz.