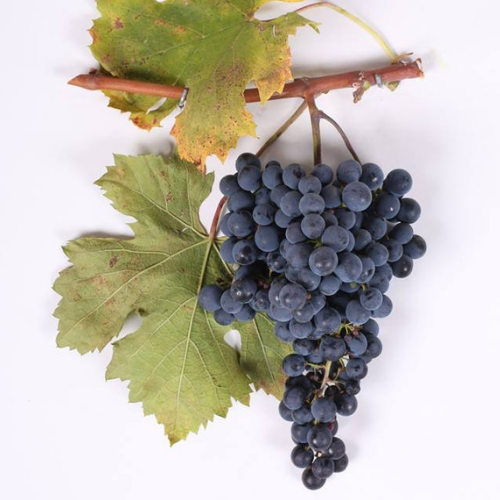 Among the aboriginal varieties of red grape vines Ojaleshi has been known in Georgia since ancient times. It is spread mainly in the mountainous regions of Samegrelo and as in the past and now it is used to make high quality dark red table wine. Among the local farmers in Samegrelo and also according to some special works, Ojaleshi is also known as Shonuri and Svanuri. Local study confirms that Ojaleshi is the oldest variety in Samegrelo and with its botanical and agrobiological features belongs to the series of Ponto vine varieties.
Wine is characterized by good red color, extractivity, harmony, energy. Along with the body and harmony, it is characterized by great storage capacity and portability. In antiquity, wine develops a pleasant bouquet, which is generally characteristic of quality wine. Alcohol makes up 13.4%. Ojaleshi is mainly used to make sweet red wines in Samegrelo, but the variety has good potential for making red, dry wines. Georgian wine companies make varietal wine.
Ojaleshi resistance to fungal diseases and phylloxera is weak – it is especially easy to get sick with ash. Horn ripening complete. It is quite strong growth-development in case of high formation, and medium – in case of low formation. It ripens in Samegrelo in mid-November. Grapes left on the vine last until December, but shrivel.
---
WINE GRAPES
A complete guide to 1368 vine varieties, including their origins and flavours.
Ojaleshi
Georgian variety suspected of Turkish origins.
PRINCIPAL SYNONYMS: Chonouri, Odjaleshi, Sconuri, Svanuri.
VARIETIES COMMONLY MISTAKEN FOR OJALESHI: Orbeluri Odjaleshi
ORIGINS AND PARENTAGE
Ojaleshi, meaning "growing on threes" in the Mengrelian dialect, is thought to be indigenous to Samegrelo, near Georgia's Black Sea coast, but a recent DNA study has shown it to be genetically close to several Turkish varieties (Vouillamoz at al. 2006), suggesting it may have been introduced from a region now part of neighbouring Turkey but once part of Georgia.
OTHER HYPOTHESES
According to Chkhartishvili and Betsiashvili (2004), Ojaleshi was mentioned by ancient Greek historian Herodotus.
VITICULTURAL CHARACTERISTICS
Small bunches of medium-sized berries. Early budding, very late ripening.
WHERE IT'S GROWN AND WHAT ITS WINE TASTES LIKE
Ojaleshi is well suited to the subtropical climate of Samegrelo, north-western Georgia, particularly in the villages of Salkhino, Tamakoni and Abedati, where it is used to make sweet ruby-red wines that have plenty of red-fruit flavours and somtimes a peppery or spicy note. It seems to have good potential for dry wines, too. It is also planted further east in Orbeli in the Racha-Lechkhumi region, where it develops rose aromas. As it's name suggests (see above), it was traditionally grown up trees, and its survival was mainly thanks to a Frenchman, Achille Murat, who started trellising it in the mid nineteenth century (Smithsonian Institution 2009). Recommended producers include Khareba, Tbilvino and Telavi Wine Cellar. There were around 130 ha (321 acres) in Georgia in 2004.
BY – Jancis Robinson, Julia Harding, Joze Vouillamoz.