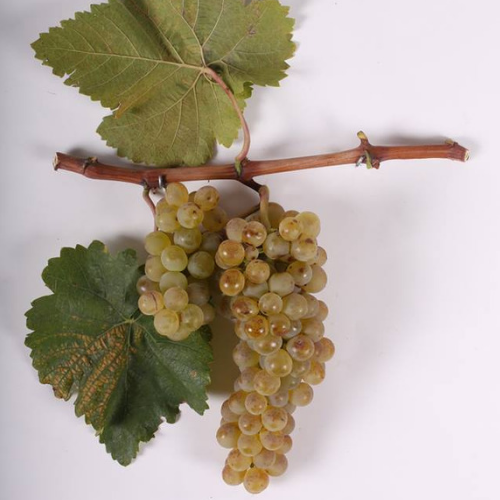 Among the historically famous white grape varieties of Georgia, Chinuri attracts special attention as a quality wine and table grape variety for quality products. With its botanical-biological characteristics, it belongs to the group of Chinuri Kartli vine varieties and rightly occupies a leading place among the white standard varieties of this region as the main standard assortment.
Chinuri is used to make high quality table and sparkling wines. Table wine – light brown, very clean, soft in taste, gentle, with a normal ratio of alcohol and acidity. Sparkling wine – mottled, very clean, with a pleasant jog and cheerful acidity. Especially famous is the "Atheni" wine made with the participation of the Chinuri. Georgian wine companies make typical sparkling and traditional pitcher wines.
Shows considerable resistance to fungal diseases, especially ash. Medium or strong growth strength. Does not show much sensitivity to environmental conditions. Easily adapts to both long and short shifts. It is also used as a table grape.
---
WINE GRAPES
A complete guide to 1368 vine varieties, including their origins and flavours.
CHINURI
High – acid Georgian variety used for both still and sparkling wines.
PRINCIPAL SYNONYMS: Chinebuli, Kaspura, Kaspura Tetri, Okroula, Tchinouri
ORIGINS AND PARENTAGE
Chinuri is indigenous to the Kartli region of southern central Georgia. It's name derives from chinebuli, meaning "excellent" in Georgian (Chkhartishvili and Betsiashvili 2004).
VITICULTURAL CHARACTERISTICS
Vigorous and productive. Late budding, late ripening. Resistant to downy mildew but susceptible to powdery.
WHERE IT'S GROWN AND WHAT ITS WINE TASTES LIKE
Chinuri is cultivated mainly in the Mukhrani, Ateni and Kaspi subregions of Kartli, southern central Georgia, where it is generally the dominant variety in the fresh – fruited and crisp sparkling wines of the Atenuri appellation, which may also include GORULI MTSVANE and possibly ALIGOTE in the blend. Although the must tends to have moderate sugar levels and high acidity, it shows good potential for the production of still as well as sparkling wines. Bagrationi make a typical sparkling version while Iago Wine, Ateni Sioni Monastery and Pheasant's Tears all make wines vinified in the traditional clay vessels known as qvevri. There were 859 ha (2123 acres) of Chinuri in Georgia in 2004.
BY – Jancis Robinson, Julia Harding, Joze Vouillamoz.