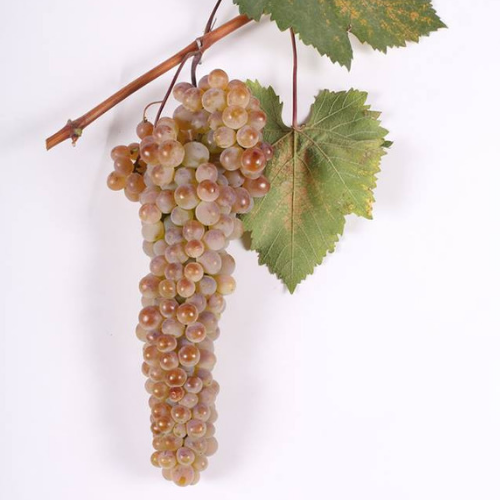 Rkatsiteli is a standard, widespread vine variety of Georgia. It occupies the largest area in Kakheti. Provides high quality European and Kakhetian type white table wine, hard and dessert wine materials and good quality table grapes of local importance.
The desired grain juiciness, high sugar content of the juice, sufficient acidity and pleasant aroma make Rkatsitli the main use for making table wines. The wine is characterized by a peculiar bouquet of fruit, tenderness, lightness, harmony and pleasant taste. Different types of wines are made from Rkatsitli in different parts of Kakheti: European table wines of Kondoli, Tsinandali, Kisisikhevi, Kvemo Khodashani, Vazisubani and Mukuzani are distinguished from European wines – the famous wine is the controlled appellation of origin "Tsinandali", where Rkatsvaneli with 75% % Green Kakhetian). Rkatsitli wines from Gurjaani, Sighnaghi and other places are the best.
It has a satisfactory resistance to fungal diseases – it usually tolerates powdery mildew better than ash. It undoubtedly tolerates winter frosts well. Characterized by good ability to adapt to environmental conditions. Grapes are also used as table grapes. Gives high-quality non-alcoholic juice.
---
WINE GRAPES
A complete guide to 1368 vine varieties, including their origins and flavours.
RKATSITELI
Extremely useful, versatile, widely planted, originally Georgian variety.
PRINCIPAL SYNONYMS: Baiyu (China), Corolioc (Republic of Moldova), Dedali Rcatiteli, Topolioc (Republic of Moldova)
ORIGINS AND PARENTAGE
Rkatsiteli is one of the most ancient grape varieties in Georgia. Its name reflects the appearance of the vine, combining rka, meaning "vine shoot" , and tsiteli, meaning "red". Recent DNA studies have shown that it is genetically very close to local wild grapevines (Ekhvaia et al. 2010), suggesting a possible direct domestication that allegedly took place centuries ago in the region of the Lekhura gorge. However, very few DNA markers were used and a much more detailed stude is needed to confirm this hypothesis.
Rkatsiteli was used to breed Kangun, Pervenets magaracha and Podarok magaracha.
OTHER HYPOTHESES
Some writers claim that clay vessels dating back to 3000 BC and containing Rkatsiteli seeds have been found in Georgia, other suggest it was the first vine planted by Noah after these assertions. Like many Georgian varieties, Rkatsiteli is said to have been mentioned as early as the fifth century AD but there is no evidence for this.
VITICULTURAL CHARACTERISTICS
Medium – sized to large bunches of small berries. Grapes can reach high sugar levels while still retaining high acidity. Late budding and ripening, productive, good resistance to phylloxera and cold winter temperatures.
WHERE IT'S GROWN AND WHAT ITS WINE TASTES LIKE
Rkatsiteli is by far the most widely planted variety of either colour in Georgia (19503 ha/48193 acres in 2004, considerably less than before Gorbachev's vine – pull scheme), particularly throughout Kakheti in the south east of the country, with some of the best wines coming from the villages of Kardenakhi and Tibaani. It is used not only for decent table wines in appellations such as Tsinandali, Gurjaani and Vazisubani (each one allowing up to 15% Mtsvane Kakhuri in the blend) but also for fortified wines in hotter parts of Kakheti such as Kardenakhi. Recommended producers of more traditional style wines, vinified on the skins in clay qvevri and often amber in colour with apple – skin flavours, include Alaverdi Monastery. European styles, which tend to be lightly floral or with stone – fruit, apple or quince flavours, crisp acidity and lots of fruit.
Rkatsiteli is very popular in most of the ex-Soviet states, being valued for its productivity, cold hardiness and ability to retain acidity – and the fact that the grapes can withstand transport well. It is the most planted variety in Ukraine and the Republic of Moldova. It is also planted in Russia but to a more limited extent and elsewhere in Eastern Europe. During the Soviet a=era, Rkatsiteli was the most widely planted grape in Armenia but plantings had been fallen to around 7% of the vineyard area by the end of the twentieth century. Yet it is still the most widely planted white variety in Bulgaria and also found in Romania.
Konstantin Frank introduced the variety to the New York State's Finger Lakes while Horton did the same in Virginia and there are tiny plantings in other American states.
Under the name Baiyu it was introduced to China in 1956 and has adapted well there. Today it is widely grown in northern China, as well as in Shangon, Jiangsu and the former Yellow River region of Anhui province. Chinese winemakers use it for sweet, dry and sparkling wines as well as for distillation.
BY – Jancis Robinson, Julia Harding, Joze Vouillamoz.