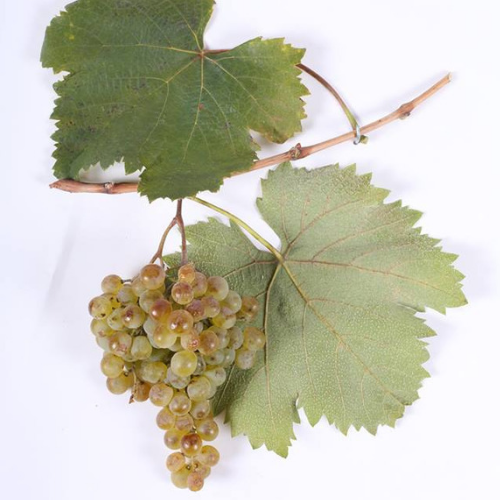 Khikhvi is a local little common standard vine variety. Gives high-quality white wine, and in some micro-districts high-quality dessert wine. Synonyms for Khikhvi are not known in literary sources. In Telavi and Akhmeta districts, the variety is called "Jananura", which is derived from the village of Janaani in Akhmeta district, and in Gurjaani and Sighnaghi districts – Khikhvi. Their identity is established by us on the collection plot of Vazisubani, in the village. Comparison of vines brought from Ruispiri (Telavi region) and Kardanakhi (Gurjaani region).
European table wine is light straw-colored, transparent, has a pleasant varietal aroma, gentle, full and harmonious taste. Kakhetian – dark beige, quite full-bodied, full and harmonious. From the grapes grown in the Kardenakhi district, the dessert wine "Khikhvi" was created, which was a dark amber, harmonious bouquet typical of Tokai type wine, with 13% alcohol, 5-7% total acidity and 24% sugar content.
Khikhvi is weakly resistant to ash and moderate to powdery mildew. Growth strength is average. Compared to other Kakhetian varieties of early maturity.
---
WINE GRAPES
A complete guide to 1368 vine varieties, including their origins and flavours.
KHIKHVI
Rare Georgian variety used for both dry and sweet wines.
PRINCIPAL SYNONYMS: Chichvi, Djananura, Jananura, Khichvi
ORIGINS AND PARENTAGE
Khikhvi is indigenous to the Kakheti region in south – eastern Georgia. The synonym is a village in Kakheti today alled Ojio.
OTHER HYPOTHESES
Along with Rkatsiteli, Mtsvane Kakhuri and Goruli Mtsvane, Khikhvi is said to have to been mentioned as early as the fifth centure AD (Chkhartishvili and Betsiashvili 2004) but there is no evidence for this.
VITICULTURAL CHARACTERISTICS
Medium – sized to small bunches that can achieve quite high sugar levels while retaining acidity. Late budding, mid ripening, conservative yields. Susceptible to powdery mildew.
WHERE IT'S GROWN AND WHAT ITS WINE TASTES LIKE
Khikhvi, found mainly in the Kakheti region in south – eastern Georgia, particularly in the villages of Kardenakhi, Gurjaani, Tibaani and Ojio, makes high – quality dry and sweet wines that are typically full – bodied and soft in acidity and have aromas of box (Buxus) but plantings are few and far between, with a total of around 20 ha (49 acres). Khikhvi is also well suited to vinification in the traditional Georgian qvevri (clay vessels), showing more mineral and floral tones. Galet (2000) suggest it is also found in Republic of Moldova and Ukraine.
BY – Jancis Robinson, Julia Harding, Joze Vouillamoz.