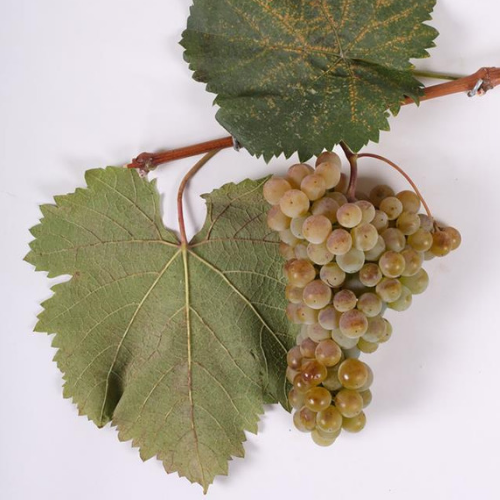 Mtsvane (Green) is a well-known name among the white grape vine varieties common in Georgia. For example, in Kakheti districts Mtsvane and Nabada Mtsvane are known; In Kartli – Goruli Mtsvane, Mtsvane, Varziani Mtsvane and Blue Mtsvane; In Meskheti – cover green; Okribuli Green in Imereti; Green in Racha; In Guria and Adjara – green and green and in Shavshet-Klarjeti – green. It seems that "green" is widespread in almost all regions of Georgia, but the named varieties differ sharply in their ampelographic signs and agricultural features, which is why the Georgian viticulturist even gave each of them an additional name of the corner or side (Kakhetian green, cover green, okribuli green). Rachuli Green, etc.).
It should also be noted that for the representatives of the above-mentioned green variety, the name reflecting the color of the grain was rightly given, because during the period of full maturity, the grapes of this variety, especially in shady areas, turn dark or light green. In particular, Kartli white grape varieties have been known as Shoroi Goruli Mtsvane since ancient times as a wine variety that provides high quality products, which is why it is rightly considered the main standard variety for this region. It is used to make high quality table and sparkling wines. The wine is light straw-colored, delicate, quite full-bodied, with harmonious, pleasant taste characteristics characteristic of a European-style table wine. Georgian wine companies produce Goruli Mtsvani wine, which has an attractive aroma of honey and wild flowers.
---
WINE GRAPES
A complete guide to 1368 vine varieties, including their origins and flavours.
GORULI MTSVANE
Fresh, fruity, light – skinned Georgian variety used to make both still and sparkling wines.
PRINCIPAL SYNONYMS: Goruli Mcvane, Kvishkhuri, Mtsvane, Suramula, Tetrpotola
VARIETIES COMMONLY MISTAKEN FOR GORULI MTSVANE: MTSVANE KAKHURI
ORIGINS AND PARENTAGE
Goruli Mtsvane, meaning "green from Gori", reffering to the collour of the berries, is an old indigenous Georgian variety from the Kartli region, named after the town of Gori close to the Greater Caucasus mountains. It has also been suggested the name means "green from the hills". Goruli Mtsvane should not be confused with the more heavily planted Mtsvane Kakhuri from the Kakheti region in south – eastern Georgia; the latter is commonly reffered to simply as Mtsvane but they have distinct DNA fingerprints (Vouillamoz et al. 2006)
VITICULTURAL CHARACTERISTICS
Along with Khikhvi, Rkatsiteli and Mtsvane Kakhuri, Goruli Mtsvane is said to have been mentioned as early as the fifth centure AD but there is no evidence for this.
VITICULTURAL CHARACTERISTICS
Medium – sized to large bunches of thick – skinned berries. Resistant to downy mildew but susceptible to powdery. Late budding and ripening.
WHERE IT'S GROWN AND WHAT ITS WINE TASTES LIKE
Planted mainly in Kartli and Imereti in Georgia, Goruli Mtsvane produces high – quality wines with fresh acidity and also widely used as a base for sparkling wines. It has the potential to make very good fortified wines but, with such limited plantings, they are rarely found today. Chateau Mukhrani make a good varietal example that has attractive flavours of honey and wild flowers. There were 221 ha (546 acres) in Georgia in 2004.
BY – Jancis Robinson, Julia Harding, Joze Vouillamoz.