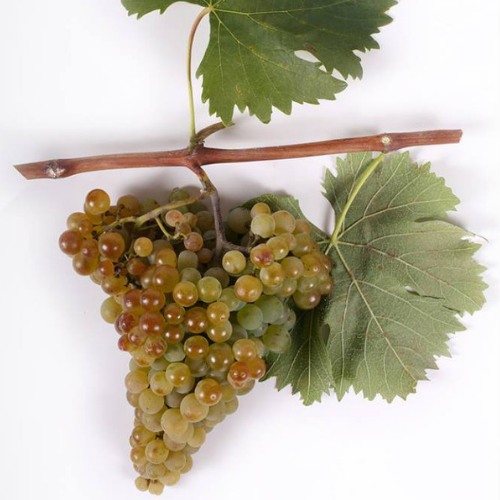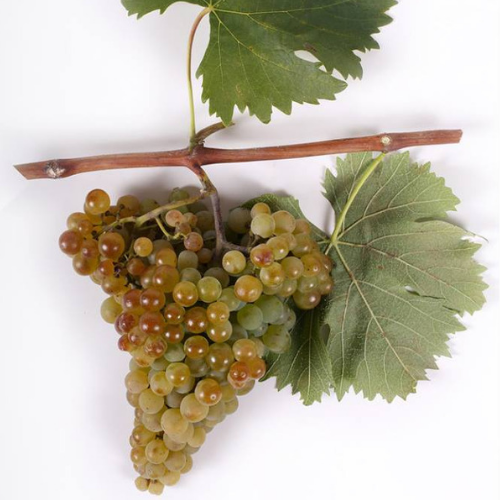 Mtsvane Kakheti is a standard vine variety, it gives high quality white table wine of European and Kakhetian type. Named for the yellowish-green color of ripe grains. In the special viticulture literature and according to local viticulturists, green was known by many other (additional) names in ancient times, such as: Mtsvane, Nabada Mtsvane, Mchknara.
Green is a high quality wine variety. Of the white varieties of Kakheti, green gives the most delicate and aromatic table wine. High quality European and Kakhetian wines are made from it. Used to improve other varieties of wines. It is part of the controlled area of ​​origin "Manavi" (75% Green Kakhetian + 15% Rkatsiteli) and "Tsinandali" (up to 15% Green Kakhetian + 75% Rkatsiteli). The wine is characterized by citrus aroma, tropical fruit tones, high alcohol content and acidity. Georgian wine companies make European and pitcher wines.
Among the leading Kakhetian varieties, green is the least resistant to ash, and vine powder – better. It is a variety of medium growth strength. Widespread in Georgia and abroad.
---
WINE GRAPES
A complete guide to 1368 vine varieties, including their origins and flavours.
Mtsvane Kakhuri
The more widespread of the Mtsvane makes high-quality Georgian whites in both traditional and European styles.
PRINCIPAL SYNONYMS: Dedali Mtsvane, Mamali Mtsvane, Mchknara, Mtsvane, Mtsvane Kachuri, Mtsvani, Mtsvane
VARIETIES COMMONLY MISTAKEN FOR MTSVANE KAKHURI: Goruli Mtsvane
ORIGINS AND PARENTAGE
Mtsvane Kakhuri, literally "green from Kakheti", is a very old indigenous variety from the Kakheti region in south-eastern Georgia. Although it is often reffered to simply as Mtsvane, it should not be confused with the genetically distinct Goruli Mtsvane from the Kartli region in southern central Georgia (Vouillamoz et al. 2006).
VITICULTURAL CHARACTERISTICS
Moderately vigorous and productive. Late budding, mid ripening. Capable of achieving high sugar levels while retaining fresh acidity. Susceptible to powdery mildew.
WHERE IT'S GROWN AND WHAT ITS WINE TASTES LIKE
Mtsvane Kakhuri is used, sometimes blended with up to 15 % Rkatsiteli, to produce dry white wines within the Manavi appelattion in Georgia on mainly calcareous soils. These typically have fresh citrus aromas, some tropical fruit notes, relatively high alcohol and crisp acidity. The variety is found mainly in the villages of Manavi and Tsinandali within the Kakheti region of south-eastern Georgia but also in Ukraina, Russia, The Republic of Moldova and Armenia. There were 240 ha (593 acres) in Georgia in 2004. Recommended producers of European-style wines include Badagoni, Telavi Wine Cellar and Teliani Valley; those who make varietal wines using the traditional clay qvevri include Pheasant's Tears and Vinoterra.
BY – Jancis Robinson, Julia Harding, Joze Vouillamoz.