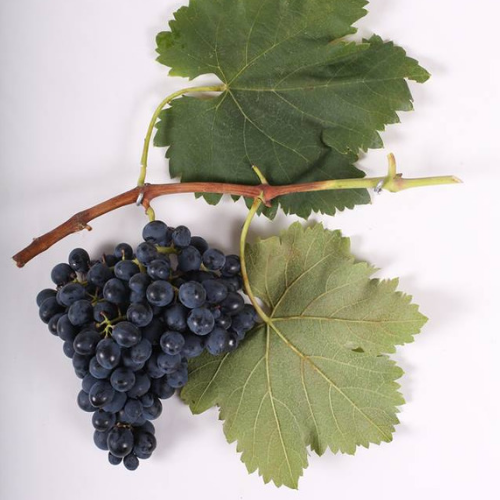 Saperavi is a standard, widespread vine variety of Georgia, it is one of the best representatives of the world assortment of red vine varieties. Saperavi makes especially high quality red table wine in its homeland, Kakheti.
Provides the best material for all types of wine. It has an intense dark pomegranate color, moderate strength, energy, fullness and cheerfulness, as well as a peculiar varietal aroma and strong bouquet. Relatively softer, fully harmonious, velvety wines are made on the left bank of the Alazani, in the foothills of the Caucasus, on medium-alluvial-alluvial-carbonate and alluvial-non-carbonate soils. Saperavi produces the best local, Kakhetian type, very rich, full red wines in the vicinity of Kardanakhi and Bakurtsikhe villages (Gurjaani municipality) mainly on brown and dark brown forest soils.
Saperavi can withstand dust and ash relatively well. Demonstrates weak resistance to phylloxera and is primarily damaged by it. Characterized by a tendency to excessive flowering. It can withstand frost relatively well, but it is less frost-resistant than Rkatsiteli and Mtsvane Kakhuri.
---
WINE GRAPES
A complete guide to 1368 vine varieties, including their origins and flavours.
Saperavi
Quintessential Georgian variety producing deeply coloured, firm, initially tart but ageworthy reds.
PRINCIPAL SYNONYMS: Atenuri Saperavi, Meskhuri Saperavi, Obchuri Saperavi
ORIGINS AND PARENTAGE
Saperavi, meaning "dye" in Georgian, reffering to its deep black skin and pinkish juice, is a very old variety from south-western Georgia (Zemo Kartli), historically known as Meskheti and now straddling the Georgian-Turkish border. From there it spread to the Kartli region and then more widely to Kakheti, where it found its second home. It was widespread in the seventeenth centure in western Georgian as well as in Kakheti.
Several distinct clones have been identified (Saperavi Budeshurisebri, Saperavi Grdzelmartsvala, Saperavi Mskhvilmartsvala, Saperavi Pachkha, etc.), illustrating the ancient cultivation of this variety.
Saperavi was used to breed Akhtanak, Bastardo Magarachinsky, Nerkeni, Novac, Rubinovy Magaracha, Saperavi severny and Tigrani.
VITICULTURAL CHARACTERISTICS
Mid budding, late ripening, relatively productive. Winter-hardly as well as drought-tolerant. Unusually for a pale-fleshed variety, berries produce pinkish juice.
WHERE IT'S GROWN AND WHAT ITS WINE TASTES LIKE
The most widely planted dark-skinned variety in Georgia (3692 ha / 9123 acres in 2004), Saperavi is planted throughout the Kakheti wine region in the south east of the country but produces its finest wines in the villages Mukuzani, Khashmi, Anaga, Kardenakhi, Shilda, Napareuli, Kondoli and Tsinandali and is solely responsible for highly regarded appellation wines such as Mukhrani, Napareuli, Akhasheni and Kindzmarauli. Varietal wines are notably high in colour, acidity and tannin, full-bodied, rich in darck fruit as well as more savoury flavours and generally repay time in bottle. Saperavi also adds colour and acidity to blends and makes impressive semi-sweet and port-style fortified wines, particularly in the Kindzmarauli and Akhasheni appellations. In cooler, higher sites, the grapes fail to ripen fully and wines may bee overly acidic and sappy. Recommended producers include Badagoni, Alaverdi Wine Cellar etc. Pheasant's Tears and Vinoterra make good examples of traditional styles, vinified in qvevri (traditional fermentation vessels make of clay).
Saperavi is widely planted throughout the wine regions of the Soviet Union, including Ukraine, the Republic of Moldova, Russia, Azerbaijan, Armenia and also in eastern Eouropean countries such as Bulgaria.
The exceptional qualities of Saperavi are so self-evident that it has even found a foothold in Australia, where Symphonia and Gapsted in Victoria, Domain Day and Patritti in Barossa and Huugh Hamilton in McLaren Vale all produce varietal examples.
BY – Jancis Robinson, Julia Harding, Joze Vouillamoz.